Dustin Poirier didn't merely knock out Conor McGregor at UFC 257. The Notorious One also is insisting that Poirier knocked some sense into him. As these two lightweight contenders prepare for their July 10th main-event bout at UFC 264, McGregor is claiming that Poirier has awoken the beast within the former two-weight UFC world champion.
McGregor appears to be channeling a mix of two famous 1980s films in his preparation for what will be the third meeting between Poirier and him. It's part Rocky III, when Sylvester Stallone's Rocky Balboa character went back to basic, old-school training after losing his heavyweight title to Clubber Lang. There's also a bit of Back To The Future mixed in, as McGregor seeks to travel back in time to regain his past glory.
While the Notorious One is saying all the right things, oddsmakers don't appear to be 100 percent sold on his impending revival inside the octagon. The current McGregor vs Poirier odds show both fighters with identical -110 betting lines for the fight.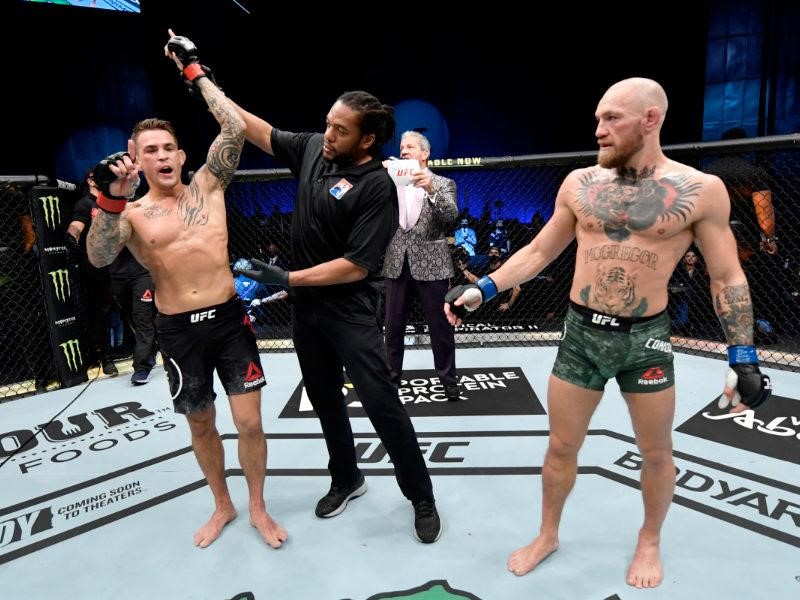 It's Been Some Time Since This One Was Notorious
McGregor is still the biggest drawing card in all of the UFC. He's been one of the headliners in five of the promotion's top-six selling pay-per-view events. Inside the cage, though, it's been quite some time since McGregor was UFC's most feared fighter.
He's come out the loser two of the last three times that McGregor has set foot inside the octagon. He's won one bout since 2016. His latest loss, a decisive second-round knockout delivered by Poirier, marked the first time in his career that the Notorious One was knocked out. His four previous setbacks were all delivered via submission.
Some critics believe that McGregor's downfall as a cage fighter began with his ill-advised but financially-rewarding boxing bout against former world champion Floyd Mayweather Jr. For instance, UFC women's lightweight champion Valentina Shevchenko is of the opinion that McGregor incorporated too much boxing training in his regimen for the last fight and Poirier was able to use that to his advantage, wearing down McGregor's thicker, sturdier boxing legs with a steady barrage of leg kicks.
For his part, McGregor insists it was a mistake to bring his fiancée Dee Devlin and their three children Conor Jr, Croía and Rían with him to the last bout. The presence of his family he thinks served to lessen his animal instincts.
McGregor is in California training for the upcoming bout and is on his own, leaving his family at home this time.
Gonna Go Back In Time
Working with longtime trainer John Kavanagh, McGregor is confident that MMA fans will see the old Notorious One back in the cage at UFC 264.
"I'm here training very, very hard," McGregor, 32, told Fox Sports. "I'm in great condition already. I feel very, very confident. I'm very focused and driven.
"I beat him in the original bout [in 2014]. I lost in the rematch. And then we've got the trilogy, I've got a few little adjustments to make.
"July 10th I will do this absolutely flawlessly. We have these clowns sussed and fully. They wanna play a game of tactics? No problem, see you in there.
"You've awoken a beast. A beast with the backing of a much higher power. Say your prayers."
The winner is expected to be given a shot at fighting champion Charles Oliveira for the UFC world lightweight title. McGregor also seems to fully comprehend what the consequences of another loss would be to his brand within the sport.
"All the marbles are on the line," McGregor said. "I'd be lying if I said this wasn't meant to be. This is exactly how this was always meant to be
"And I'll go in there and put on one hell of a performance and get it back on July 10th."
McGregor's Legacy On The Line
Former UFC fighter Mark Weir believes that McGregor has achieved everything he could ever desire in terms of material possessions. Now it's about re-establishing his aura as one of the all-time greats of UFC.
"The only thing is, to create a legacy," Weir told SkySports. "He needs to focus on why he's fighting. He needs to focus on what he wants to achieve.
"If he doesn't focus, the old Conor is never going to come back and he's going to do more damage to his reputation."